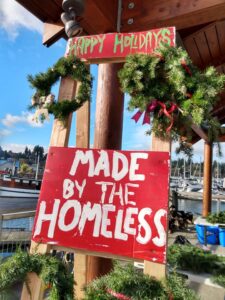 Undaunted by storage and supply chain issues (wreath frames, of all things), a vehicle breakdown, and at one point threatened with a trespassing order by the city of Olympia, the Hobos' seventh year in business is off to a booming start.
Founded on the principles of creating jobs and connections for the street community, the Hobos put the artistry of its makers front and center.
New this year: More pay for wreath-makers, and brightly painted holiday ornaments.
The ornament-making "ties in with the potential for being transformative. Same with the wreaths. The creative process is really fun and (the makers) really enjoy it. They find satisfaction in the creation," says organizer Walker Stephens. "We are helping people make art and we are helping people get paid".
Even on a very rainy day, the wreath makers were turning out colorful holiday creations that were selling briskly.
Wreath-makers are paid by the piece on a sliding scale and ornament-makers get a set fee for each. All of the creators are people experiencing homelessness and those in the street community in Olympia.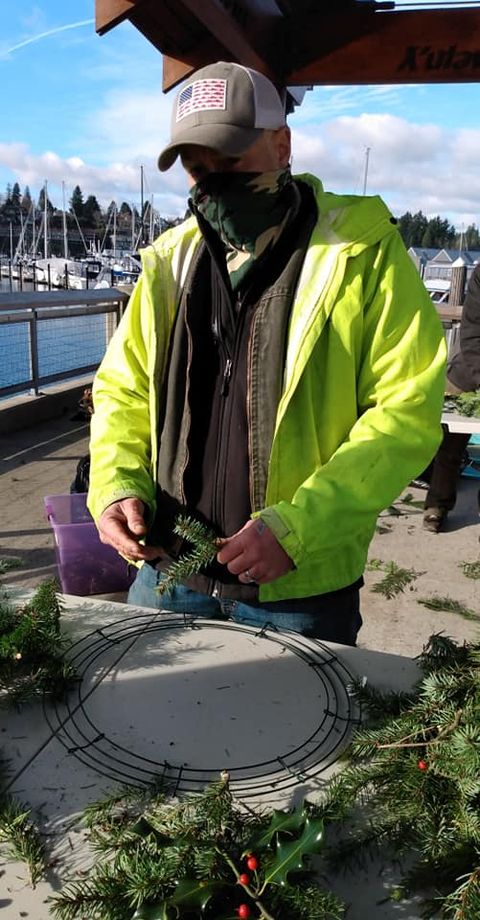 The Hobos have struggled to find a location to sell from this year. The city said no to their request to bring a little bit of brightness downtown by using the Artesian Commons (now a cracked, puddled fenced lot) to store greenery and for production space and for sales. 
"It is so ridiculous that we were not allowed to be there," Stephens said. "It is frustrating that the city is holding this valuable public resource away from everybody." Yet, he said, he understands that city is under pressure from all sides about its downtown. "They are getting (criticism) from all directions and don't deserve all of it. I am not trying to run the city down."
Not having a fixed location also makes the Hobo's efforts a bit more difficult. "It's a daily headache to move (greenery and other materials) from an off-site place to downtown and then back again." But with the help of volunteers who donated space for storage, materials, and transportation, sales began last week and continue until they run out of the 600 wreath frames they were able to obtain.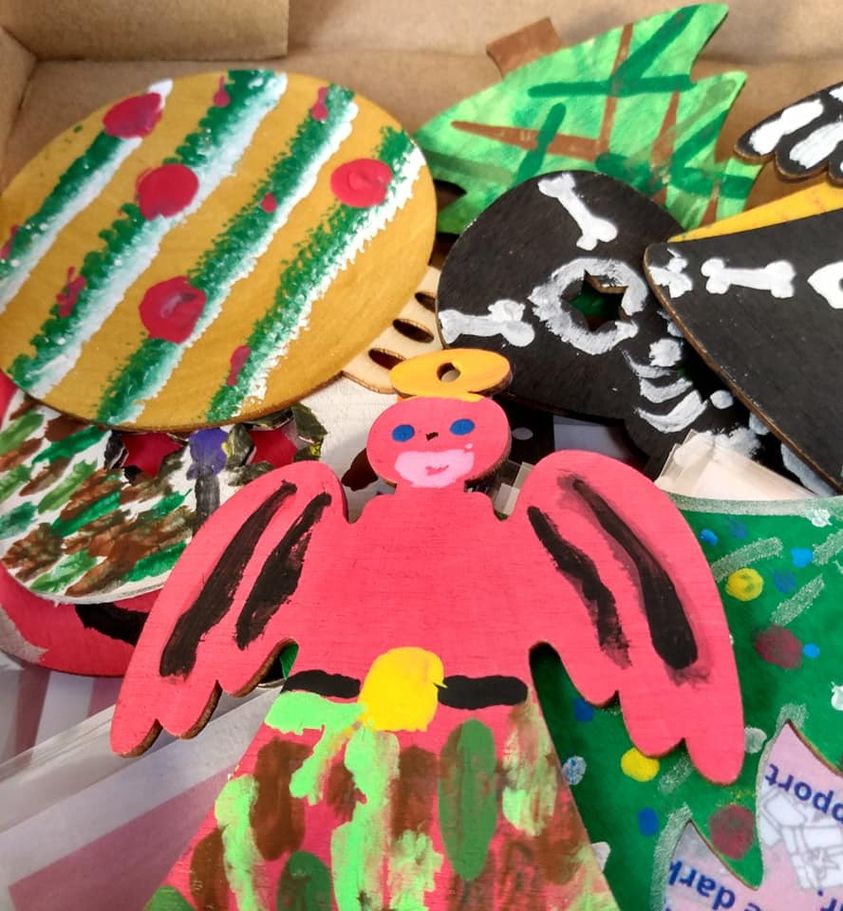 For now, they are making these modest, $10 wreaths under the cover of the gazebo at Percival Landing, next to pricey housing and restaurants and within shouting distance of million-dollar boats.
They do not have permission to be there either. "Every time we've asked the City of Olympia permission to be anywhere, they've said "no", the Hobos' website says. "This year we've been threatened with trespassing charges, for making wreaths on public property, although we haven't been told what rules we're breaking by doing so."
The benefits of the work extend far beyond what ends up decorating homes. "We've taught hundreds of people to make wreaths, and paid each one for their creation.  In this way, our project has had a small impact on a lot of people.  But the project has also had a much bigger impact on the lives of a small number of people, engaged as leaders, salespeople, and organizers. Ho-Ho-Hobos has helped some folks pay for housing, or get a vehicle, or has been an important part of people's stability and recovery," says its website.    
For more information, visit the Hobos' website and Facebook page.