It started Wednesday, and when all is said and done, more than 100 people will be living in new places by the end of the day, December 16.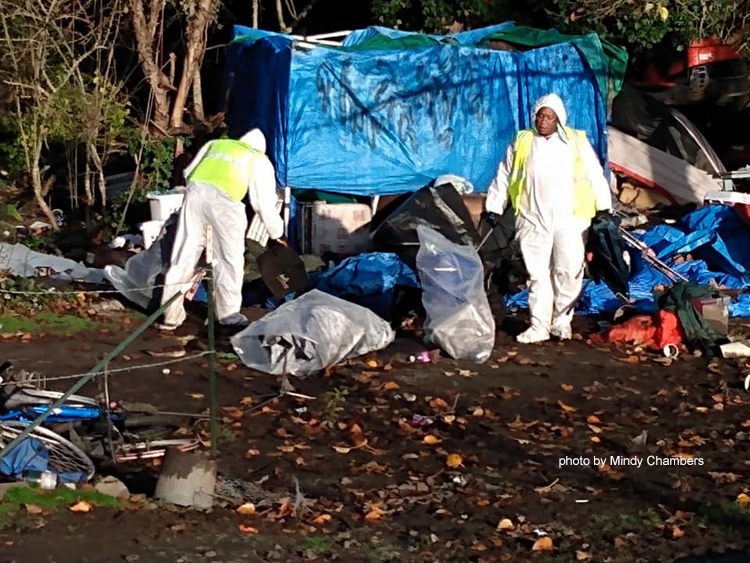 Where those places might be is both a short-term and a long-term question.
Before daylight on Wednesday morning, the first of over 30 dumpsters began to arrive. They would be filled with thousands of pounds of tents, tarps, and other belongings during the city's sweep. The camp had been nestled along a half-mile-long strip of Deschutes Parkway, along Capitol Lake, for over two years.
As the sun rose over the capital dome and a stinging breeze blew across the lake, 30 or so people had yet to move. Some stood waiting, belongings in hand. Some rushed to collect what they could from their campsites and wondered what was next for them.
With the help of dozens of volunteers coordinated by Olympia Mutual Aid Partners, the human side of the sweep – relocating people – went remarkably smoothly. This was partly due to the absence of uniformed law enforcement officers, whose authority-figure presence has quickly escalated issues at previous sweeps.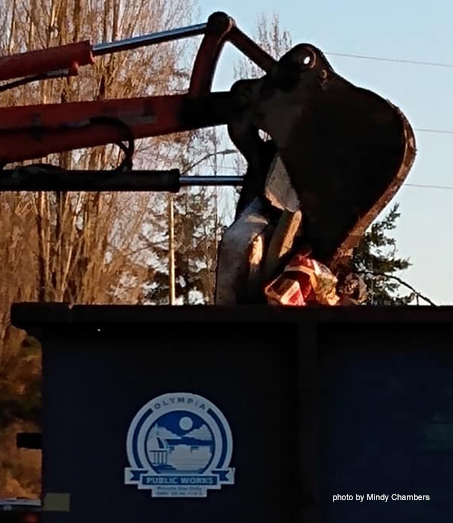 That absence was just one of the requests by OlyMAP, whose staff's long-standing and trusting relationship with those in the homeless community was a vital component of the ease of the move. OlyMAP is under contract with the city to provide case management services to people experiencing homelessness through the new "scattered site" program, which works with people where they are.
"A lot of people have already moved," said Gundel said. She's the Homeless Systems and Program Coordinator for OlyMAP, which worked late into the night to relocate people to hotel rooms where they can stay for 30 days. Olympia is paying for the hotels and is seeking emergency funding to cover the cost. Hotel rooms are the answer to the short-term question. After that, it's anyone's guess where the displaced people will go.
"There is no magic solution," said Keith Stahley, Olympia's assistant city manager for housing and economic development. "Until we have sufficient shelter space and housing, this is going to continue to happen," he said, referring to the encampments that everyone admits will pop up somewhere else.
The Deschutes site popped up in 2019 when about a dozen people, their homes, and belongings were removed from under the Fourth Avenue Bridge. A few of them moved to the nearby new site, and over time, it grew to about 80 people total. The growth was partly due to a decision by the State to ban overnight street parking on Deschutes Parkway earlier this year.
Those who decided to move their motorhomes rather than stay in tents moved to Ensign Road near Providence St. Peter Hospital. Some residents of those motorhomes, and in an encampment in nearby woods, have been told they have until December 16 to move, when the city will sweep those sites as well.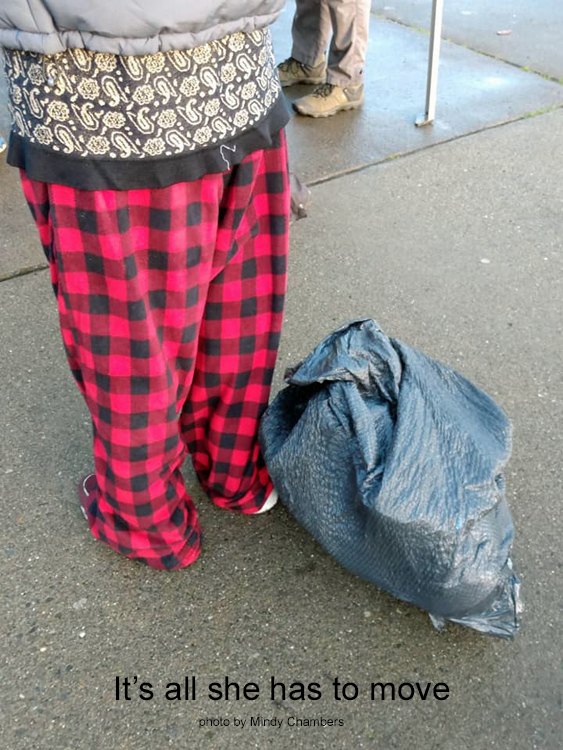 Now, no one has a good answer to where those being forcibly relocated in the next week will end up next – those living in hotels and those who are not.
Efforts by Thurston County to open a safe parking site have fallen victim to push back from residents in the county and city of Lacey. The city's sanctioned camping site, known as the mitigation site, is full, as are all of the shelter beds in the area.
Options also are few for those who live in their motorhomes. RV parks won't allow vehicles over a certain age. Law enforcement agencies are also reluctant to provide services to such a site. The county still is trying to move forward on such a proposal.
"We will see the impacts in the coming weeks and months," Gundel said. "Everybody is going to be disbursed with no staffing support and no support plan," she said. She worries about the effects of the scattered-site approach, which focuses on timely, regular, on-site contact with people. Its major focuses have been the Deschutes and Ensign Road encampments. With people now located all around the area, that work will be more challenging, even as OlyMAP celebrates some initial successes.
"Everybody will be back out (after the 30 days) with nowhere to go," she said, "it's anybody's guess where we are going to see the next one of these (new encampments)."
In two weeks in November, OlyMAP had 160 contacts with individuals. According to Keylee Marineau, Thurston County's homeless prevention and affordable housing coordinator:
Nineteen of them were first-time contacts,
six of them entered the housing intake system,
four got housing vouchers, and
17 other housing referrals were made.
In the four-plus months it's been using the scattered-site approach, OlyMAP is "in fact making an impact in a positive way," Marineau said.
The action on Deschutes was due to safety concerns, Olympia City Manager Jay Burney told the City Council at a recent meeting. In October, Deschutes Parkway was closed three times: for two non-fatal shootings and a beating that resulted in the death of a man. None of the incidents occurred within the encampment. In November of 2019, a murder occurred across the street.
The Deschutes camp will be cleared by Friday afternoon. The city has said it will enforce trespassing laws there, including arrests, going forward. Sean Threatt owns most of the land the encampment will be on, and it will be up to him to decide if he wants to fence it, Stahley said.
Wrapped in a blanket and carrying a guitar, one resident surveyed the scene and reflected aloud, "I wonder how long it will take people to move back in here?"
He then answered his own question, "They'll be back here the next day."