Sunday Smoky Skies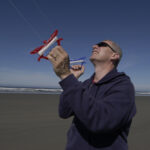 Paul Peck
0 Comments
468
1 Min Read
Related Posts
Russ Lehman

April 30, 2021

In 1972 the Washington state Public Disclosure Commission (PDC) was created by the dogged determination of a small group of citizens with the radical notion that transparency and ...

Mindy Chambers

April 26, 2021

"Two down! Eight to go!" Those triumphant words rang out across a tent-filled asphalt parking lot in downtown Olympia on a recent sunny spring morning as the first of 10 new ho...

Mindy Chambers

April 26, 2021

Is it a slate? A collaboration? Cooperation? Just what is it? Whatever it is, Olympia City Council candidate Candy Mercer says she's leading the charge to "flip" the council.&n...