"If you're going to make us move, could you give us just a few more days?"
That's what residents of recreational vehicles parked along Ensign Road near St. Peter Hospital hoped the City of Olympia would do.
Many receive federal disability benefits, which come on the first of the month. The question is why the City can't wait to make them move until November 1 or a few days later. This would allow them to purchase gasoline and other things they need to leave the space they have called home for several months.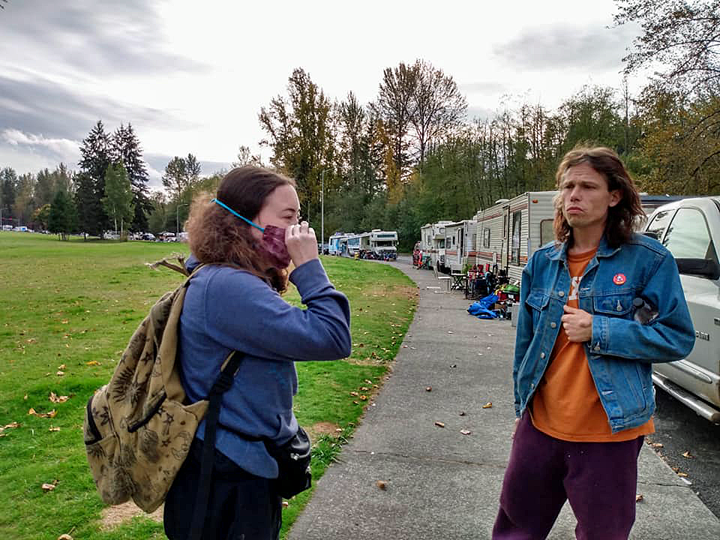 Late Monday afternoon, the City said that no extension would be given.
"The City will proceed with the current timeline because of the public safety and health concerns. Even given that, we wanted to make sure the Parkers had adequate time to accommodate the move. City staff have given the Parkers informal notice of the need to relocate by October 27, and there is a full week between the formal notice on October 20 and the date they should be off the roadway, October 27,"

from a statement provided to The Tribune by City of Olympia Communications Director Kellie Braseth
That decision dashes any hopes that the 60-some residents had that the City will let them stay put until a permanent, legal place can be found for them to park. Before the decision, residents sent a letter to the city pleading for reconsideration:
"As a community of homeless peoples who are trying to move forward out of homelessness, it is in our best interests if we are allowed the privilege of staying. We are working hard to find a living situation that will allow us to find work to earn enough to be able to move into apartments or other housing that we can afford."
Braseth acknowledged the City received the letters and, "my understanding is that City staff have spoken directly to them about their concerns."
"We have heard nothing from the city," said Micky Nelson and Ty Gundel. Mickey is a resident of the Ensign Road Community, and Ty works with Just Housing, a local organization that works with unsheltered and unstably housed people in support of their rights and needs. She was at the site Monday afternoon talking to residents about the pending move.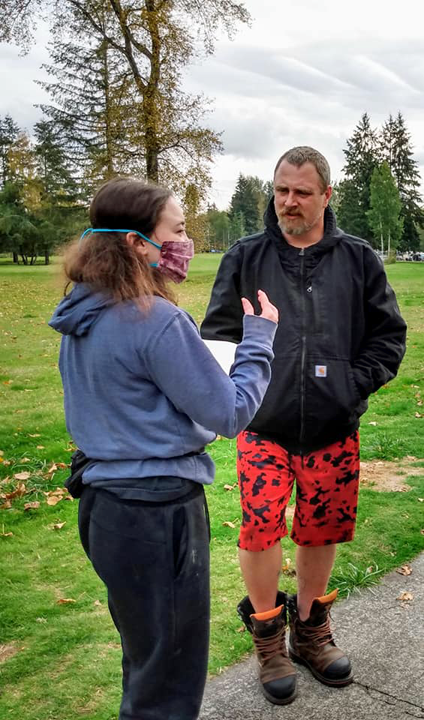 "We have nowhere to go, and we don't know what to do next," said resident Jon Reeves, who has been living at the Ensign Road location for several months, "we are around other people. We have turned into a community. It is easy to get to the services we need, like our medical appointments."
"We are trying to improve our situation," said Catherine, who is living with her partner and two dogs in a 22-foot trailer. She's eight months pregnant and recently lost state housing benefits. "We have a positive outlook. We are trying to be as normal as possible. We are trying to find jobs, but we are getting ready to pull out when they say we have to," she said.
The residents and advocates are concerned about the lack of possibilities for re-location. They also question why the residents were not included in discussions on the pending move.
"They know we are vulnerable, fragile people, yet we were not considered," said Deborah, a resident. She declined to give her last name due to safety concerns. "They made this decision without us, so we would not have any recourse."
Just Housing also sent a letter to city staff and council members asking them to pause the move.
"We hope that the City will choose to remain committed to an outcome-driven timeline, as opposed to a deadline-driven outcome, by deciding to stay the clearance until a safe, legal, and appropriate location is designated for folks to move to,"

excerpt from a letter sent by Just Housing to the City Council and staff
The group sent a similar letter to county staff and commissioners asking them to participate in discussions to find a safe, legal place for RV parking.
"We believe that all jurisdictions within our region have some responsibility to be at the table, working to ensure that people are not displaced with nowhere to go when the 27th arrives," the letter said.
"The actions of more than one jurisdiction have contributed to the escalation of the situation along Ensign Road … a positive outcome is much more likely if our entire region is working together and pooling resources to guarantee that this vulnerable group of people do not find themselves with nowhere to go at the beginning of winter, in the middle of a continuing pandemic".
The RVs began lining Ensign Road in the spring, and their numbers have grown steadily. In September, the City of Lacey enacted strict RV parking regulations limiting their parking to four hours. That ordinance is being challenged in federal court. In September, the state Department of Enterprise Services banned RVs from Deschutes Parkway around Capitol Lake, pending the outcome of a study.
In September, the City decided it was time for the RVs to move but did not immediately tell residents. It will officially notify them today (October 20). Instead, they got wind of it from a St. Peter Hospital employee who had received an email from the hospital about the move.
The residents' letter to the City says: "We were not informed, nor invited, to attend meetings that concerned our group. We were surprised to receive the notice that we all had to leave. While we have been told we would be asked to leave here eventually, we did not think we would be asked to leave before there was another place for us to go." 
Safety concerns
The residents' safety concerns are real. Public disdain and hostility toward the residents and other homeless individuals are rampant in social media posts. People are referred to as disgusting rodents, scum, lazy slugs, feral humans, worthless, and other pejoratives. Deborah shows a reporter a copy of a post that threatens violence. She says people drive by at all times of the day and night, honking and yelling and sometimes dumping their garbage. Some residents have installed security cameras on their rigs to track the activity.
They fear moving out into the woods or other places where they will be isolated from others and far from social services will further endanger their health and safety.
The City's concerns center on emergency vehicle access to the hospital's emergency room. The City says the Olympia Fire Department has rerouted emergency vehicles to Lilly Road and that "the change in route has added critical minutes to emergency vehicle response times that could have life or death consequences." The Fire Department guidance recommends Lilly Road as a primary access route but does not require it. It does not mention vehicle response times being hindered.
The City also cited concerns about biohazards being dumped in a sensitive wetland near the RVs. Braseth said Monday the notification process to authorities regarding this "is still ongoing. Our Homelessness Coordinator has reached out to County Health about the dumping and for what appropriate steps to take for official notification about it and is doing the same with Ecology. I expect we will know more about what mitigation will need to happen after those formal notifications are complete, and those entities are involved."
The residents have asked the City for a chance to respond to concerns about sidewalk-blocking and sanitation. On a recent fall afternoon, the sidewalks were clear. The area around the portable restroom and hand-washing station was tidy. People were out walking their dogs and visiting in the late afternoon sunshine. Cars and bicyclists moved through the area with no impediment.
The residents also have drafted a Code of Conduct, which they sent to the City, to show they are committed to keeping the area clean, and that sets rules for those who live there. The code addresses sanitation practices and unallowable behavior and bans illegal activity and alcohol and illicit drug use. Failure to abide by the code will result in eviction.
Successful self-governance of encampments is not unheard of in Olympia. The original Camp Quixote tent city in the 00s, and most recently the New Hope Community village, had similar codes of conduct.
Advocates worry that vulnerable adults – those with chronic disease, those who are pregnant, and those who are elderly – will be placed at a significantly increased risk if they are forced to move.
"We understand that Ensign Road is not suitable as a long-term shelter location. We also know that you all care about what happens to the folks who live along Ensign Road and that this decision was not made lightly. The possibility of emergency services re-routing is not a small issue. It is a significant health and safety issue, but so is the displacement of a disproportionately vulnerable group of people at the beginning of winter, in the middle of a continuing pandemic, without ensuring that they have somewhere to go," 

excerpt from a letter to the City of Olympia from local advocates
What's next?
The residents are preparing for two options: Move, or have their homes towed. Near-term re-location options are few. No RV parking is allowed in any public space nearby, and RV parks are opposed to older vehicles.
"We want to maintain dignity. We want a safe, legal spot to park, so we don't break the law," Deborah said.
When it evicted campers from its property in Tumwater that's being leased to a millionaire developer, the Port of Olympia said it would discuss the possibility of locating what's known as a "mitigation site" on Port property. So far, that has not happened.
"When I first heard we were going to have to move, I was mortified for three days. The only thing that got me out of it, and thank God I got out of it, was I went back to my Bible. It reminded me there's no shame in being poor," Deborah said. "What the City has done is just like Pontius Pilate, they made a decision and washed their hands of it. Legally they can do this. Morally, they need to consider how they treat the least of us".
Says Catherine: "There is a light at the end of this tunnel, and we are just waiting to see it."
Note: The Tribune reached out to Olympia Mayor Cheryl Selby and individual City Council members for comment and received no response.