Could 2023 be the year when downtown Olympia's infamous eyesore, a tiny park (formerly known as the Artesian Commons) sandwiched between a pet store and a bar, becomes more than a trash-strewn lonely vacant lot?
Maybe.
In the City of Olympia's 2023 proposed operating budget for the Office of Community Vitality, they set aside $75,000 to develop "a night market at the Artesian Commons." Also, a related request for $45,000 is noted in the 2023 work plan for the city's Parking and Business Improvement Area.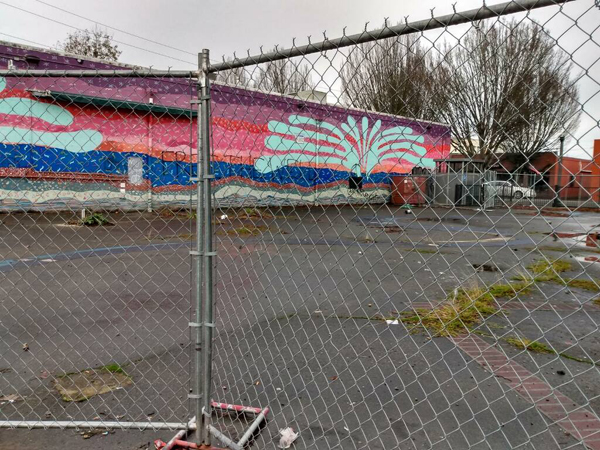 The city also is asking the PBIA to help review requests for proposals, select the successful submission, and provide guidance on the project. The work plan identifies the deliverable as an "impactful, attractive project that creates a draw to downtown."
"We are consistently hearing from downtown business owners and other stakeholders that they would like to see another use for the City-owned property around the Artesian Well (formally the Artesian Commons park) that provides a positive benefit for downtown, rather than the property sitting vacant behind a fence," said Amy Buckler, the city's strategic projects manager.
"At the same time, we are considering how best to advance the Downtown Creative District concept. Public outreach has identified that additional space for artists to sell wares and for the public to engage in creative endeavors/events is desired. So, at this initial stage, we are seeing if we can marry these two public desires to create a positive use for the space downtown," she said.
The PBIA is a city advisory board, funded partly by fees paid by downtown businesses, whose mission is "to assist in creating a vibrant, dynamic business environment and enhancing the reality and perception of downtown by visitors, residents and business owners."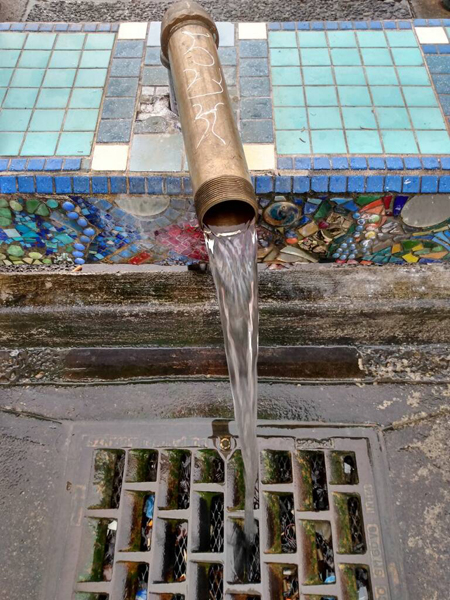 The city created the Artesian Commons in 2014. Before that, the space was home to a pipe that provided fresh artesian well water to hundreds of people, some of whom still come weekly for their drinking water supply.
After it became an official city park, fancified with colorful mosaics, picnic tables, and lighting, the Commons became a popular gathering place for pickup basketball games, peanut butter and jelly sandwiches, tarot readings, concerts and busking, chalk art, and popup makers markets. It was also a place where social service workers could connect with people seeking a variety of supports.
Many days, it was packed with people simply looking for a place to be during the day and sometimes overnight. Neighbors and nearby businesses complained about fights there, drug dealing, and people blocking their sidewalks.
Olympia police were called to the site numerous times before the city closed it in August of 2018, citing threats to its workers who staffed it. Yet no police reports on these alleged incidents were filed, and no one was ever charged with threatening a city employee at the site.
Since then, it's been enclosed by a chain link fence, which a group of people moved in a protest (the fence was not locked at the time) in mid-September 2018. Police used pepper balls and flash bangs to break up the demonstration. The fence was then permanently secured.
A flyer distributed before the protest said: "For many of our most vulnerable community members, particularly street-dependent youth, the commons have represented a singular safe place, a singular sanctuary – in a city with only a few places where they can legally exist."
HoHoHobos, a group of unhoused people who make and sell holiday wreaths to create jobs and connections for the street community, has asked the city to use the well site for their operations and sales for the last two years but has been denied.
"We have a responsibility to the greater community to steward our public spaces in a way that ensures they are safe and welcoming to all in the community. That requires intention, time, and engagement with the community, particularly the community members most impacted by the space. Given the troubled and often violent history of the park, it would not be fair to surrounding neighbors and businesses to, as you put it, 'simply pull down the fence' without a thoughtful plan and process in place," Olympia Parks, Arts and Recreation Director Paul Simmons wrote to HoHoHobos coordinator/spokesperson Walker Stephens in October of last year.
HoHoHobos ended up working with a private property owner to set up shop in a vacant lot just a few blocks away, had a very, very successful sales year, and no apparent safety issues or neighborhood opposition.
Buckler said the city plans to release the RFP later this year to gather proposals from organizations interested in managing something such as a night market. These markets, which are present in cities around the world, include vendor booths, food carts, and live entertainment. Buckler said the city will be looking for an organization to manage the space during the event(s) under contract with the city.
Buckler also said that safety considerations will be part of the process and will be taken seriously and that a public meeting will be held so adjacent businesses and neighbors can learn more and express their thoughts and ideas. However, a date has yet to be set for that meeting as of the writing of this article.