A new, 38-bed shelter for highly vulnerable people experiencing homelessness is beginning to take shape on Olympia's eastern edge.
The shelter, at 3444 Martin Way, is scheduled to open by early February 2021, says Interfaith Works Executive Director Meg Martin. The 5,250-square-foot "Sprung Structure" is a heavy-duty modular building similar to those used in a number of American and Canadian cities to shelter unhoused people.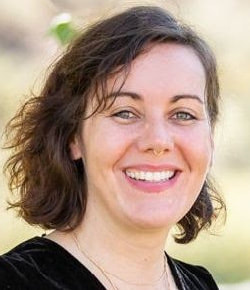 Martin praised the Interfaith Works Board and funding partners. "At a time when the COVID-19 crisis has made all of our lives harder, this community has come together with a pragmatic, generous, and heart-strong plan to help our most vulnerable residents," she said in a news release. "It's remarkable, but not surprising. This effort proves that Thurston County is home to some of the most caring, innovative, and courageous people in the world."
The latter statement seems to be playing out in a variety of ways.
Thurston County agreed to use a combination of federal, state, and county money to pay $530,000 toward the cost of a safe parking area for individuals now living in their vehicles along Ensign Road. Details about who will operate the site, a paved, city-owned parking area at Carpenter Road and Martin Way, and when it will be opened are being worked out.
The Providence St. Peter Foundation is donating $50,000 toward the construction of micro-houses at a city-owned tent village in downtown Olympia, according to a city spokeswoman. Details on this project have yet to be disclosed. 
Five tiny homes in the parking lot of First Christian Church in downtown Olympia are on their way to completion. This privately funded project replaces temporary structures built earlier this year to accommodate people who had been living under the city's Fourth Avenue Bridge.
The announcement of the new shelter comes on the sixth anniversary of the opening of the Interfaith Works shelter in First Christian Church in downtown Olympia. Since November 1, 2016, it has provided nearly 2,200 consecutive nights of safe, warm shelter to hundreds of the community's most vulnerable residents – those with mental and physical disabilities, elders, and others who had been living unhoused. 
In March, about half of the residents of that shelter had to move to accommodate social distancing protocols made necessary by the COVID-19 pandemic. Those individuals, who have been living at a building on 2828 Martin Way, must move again this week as work begins on construction of a new multi-story building of 65 apartments above a 60-bed shelter. 
While they wait for that shelter to open, those residents will be housed at First United Methodist Church in east Olympia. Interfaith Works staffs all of the current shelters and will do so in the new facilities.
"The congregation of First United Methodist Church of Olympia is thrilled to partner with Interfaith Works and support the vital work they are doing in our community," the Rev. Amanda Nicol, Associate Pastor, said in a news release from Interfaith Works. "Our Christian faith compels us to love God by seeking justice, kindness, and dignity for the most vulnerable among us. The pandemic has left our building profoundly underutilized, so we feel blessed to offer this act of hospitality to our unsheltered neighbors."
The church is not new to offering such hospitality. It hosted the 30 residents of Camp Quixote, a tent city that rotated among area churches prior to moving to its permanent site on Mottman Road. 
Interfaith Works and the Low-Income Housing Institute expect to break ground in December on the permanent location at 2828 Martin Way. When that building is complete, people in the temporary shelter, and those who live in the downtown location will move in. Interfaith Works will continue to staff all locations.
Once that move is complete, the new temporary shelter will be converted into a day shelter and hygiene center. The area has been without such services since the Providence St. Peter Foundation closed the Community Care Center in downtown Olympia this spring.
The $1.7 million to pay for the temporary shelter project comes from Thurston County, the state Department of Commerce, the city of Olympia, The United Way of Thurston County, First United Methodist Church, and a private donor-lender. 
The opening of the temporary shelter is good news for the area's unsheltered residents and for those who have had concerns about the area's winter shelter capacity, which, at about 200 beds, is less than half of what it has been in previous years.
"It's no secret that we have hundreds of unsheltered people on our streets and in wooded areas with no options to get inside as winter approaches," Marineau said. "Any addition of 24/7 shelter beds to our system is a major win," Keylee Marineau, Thurston County Homeless and Affordable Housing Coordinator, said in the Interfaith news release.