Two of the city of Olympia's three finalists for chief of its Police Department have been named in legal actions referencing hostile workplace issues, and one has been sued over allegations of racism and discrimination.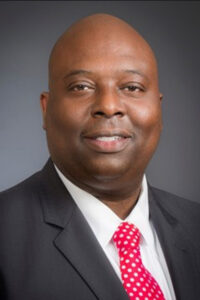 Finalist Kenton Buckner, police chief in Syracuse New York, has been named in several legal actions in his 28 years in law enforcement. He had previously had worked in Little Rock, Arkansas, and Louisville. He was sued last year by a Syracuse police officer for racism and discrimination. Buckner has denied the claims. When he was in Little Rock, he was among those on the police force who were sued over allegations that officers were subjected to a hostile work environment and discrimination. That city later settled the lawsuit out of court. When he applied for the job in Syracuse, a blog called 'badlittlerock' posted this regarding Buckner.
Mark Bliss is the deputy chief in charge of the Office of Support Operations at the Detroit Police Department. He started his career in 1999 and has more than 23 years of policing experience. Bliss was among those named in a 2018 lawsuit in U.S. District Court; the court later ruled against the plaintiff's claims of a hostile work environment and violation of his civil and constitutional rights under state and federal law.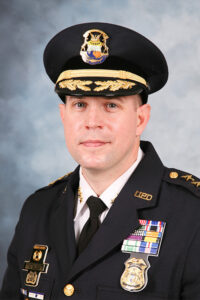 William Riley, III has worked in law enforcement for more than 34 years. He retired as the Police Chief for the City of Inkster, Michigan in 2022, and previously worked as chief in Selma, Alabama. Riley took over the Inkster Department in 2016 after the city settled a $1.38-million lawsuit with a black man who was brutally beaten by a white officer after a traffic stop, according to a story in the Los Angeles Times.
More information on all three is available in a news release from the city.
Late Friday afternoon, after The Tribune brought the legal actions and other specific issues related to Buckner to the city's attention, city spokeswoman Kellie Purce Braseth said "We are aware of these issues. Being the subject of a lawsuit or claim is not an automatic disqualifier. However, because they were serious issues, (City Manager) Jay (Burney) looked into all of them, and he came away comfortable with the conversations he's had with both the recruiting firm and the candidates. We believe we have a solid pool of experienced law enforcement professionals who have served in diverse communities and dealt with challenging issues. We look forward to vetting them further through our interview process next week."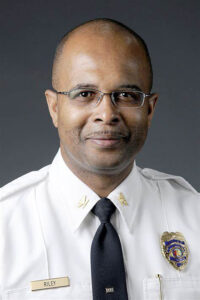 The Tribune has reached out to Buckner for comment.
Burney announced the finalists in the release late Friday morning. In it, he said: "It was critical that we ensure we conducted the broad and inclusive process our community wanted and that would validate our community's trust in the process. We got that. This is a pool of diverse and proven leaders in law enforcement. I am very pleased with our choices, and I'm grateful to the community and the Department for their patience through the process."
The Police Department has 110 employees: 76 commissioned personnel, 13 corrections officers, and 21 civilians and an annual operating budget of $21.8 million. The recruitment announcement says pay for the position is "up to" $192,177 plus benefits.
The city has been without a permanent police chief since December of 2019, operating with two interim chiefs, Aaron Jelcick, who retired last fall after two years on the job, and the current interim chief Rich Allen. Jelcick led the department during violent protests in the city in 2020 and 2021, some of which involved shootings and that led to widespread criticism of the department.
The protests plunged the city into a process of "reimaging public safety" and the city said in its news release that the new chief "will join that conversation as a listener, subject matter expert, and champion of the community's vision for public safety." That work is to be completed in July when a workgroup is to make recommendations to the City Council on how to ensure the City's public safety system "is based on trust, justice, and equity and without bias". The city also is engaged in extensive diversity, equity, and inclusion efforts in the public arena and at City Hall.
Burney put a previous chief search on "pause" last year when The Olympia Tribune reported that one of the four finalists had been reprimanded in 2017 by the Kalamazoo Michigan Police Department, where he then was a sergeant, for violating that city's use of force policy. That incident was not discovered during the search firm's vetting process, and this time around, the city used another firm, California-based Public Sector Search and Consulting of paying it $45,000.
On its website, the new search firm says: "Our recruiters are former police chiefs who have extensive knowledge and expertise in both contemporary policing and recruiting … our firm's understanding of the candidate pool is unrivaled. We know the rising stars and who is looking to make a change. Every new search expands our vast network of police leaders."
Under the city's council-manager form of government, the city manager hires the police chief, rather than the city council.
Interviews of the three finalists are scheduled for Tuesday, March 15. They are to meet with Police Department employees, City department directors, and what the city calls a "broad-based panel of community members".
Also on March 15, from 6-7 p.m., the city is having what it calls a virtual "Town Hall" when the finalists will have the opportunity to answer questions generated through the city's Engage Olympia process. As of Friday afternoon, 40 questions had been generated; the site's moderator had deleted three. The site does not say who will choose the questions from the Engage site to be posed to the candidates or what criteria that person(s) will use to select them.
Community members will hear from each candidate, followed by a brief question and answer period. The city will ask residents to share their feedback on the finalists on Engage Olympia following the event, where a recording of the meeting will be available.
The City expects to have the new Chief in place by the end of April.