"Two down! Eight to go!"
Those triumphant words rang out across a tent-filled asphalt parking lot in downtown Olympia on a recent sunny spring morning as the first of 10 new homes made its way there by forklift from the Port of Olympia warehouse where it was built.
The brightly painted structures were settled in with precision, and safely and carefully leveled on the uneven pavement in an area near the Intercity Transit station. Known as "mitigation site," it has been home to about 80 people living in tents since the city set it up in December 2018.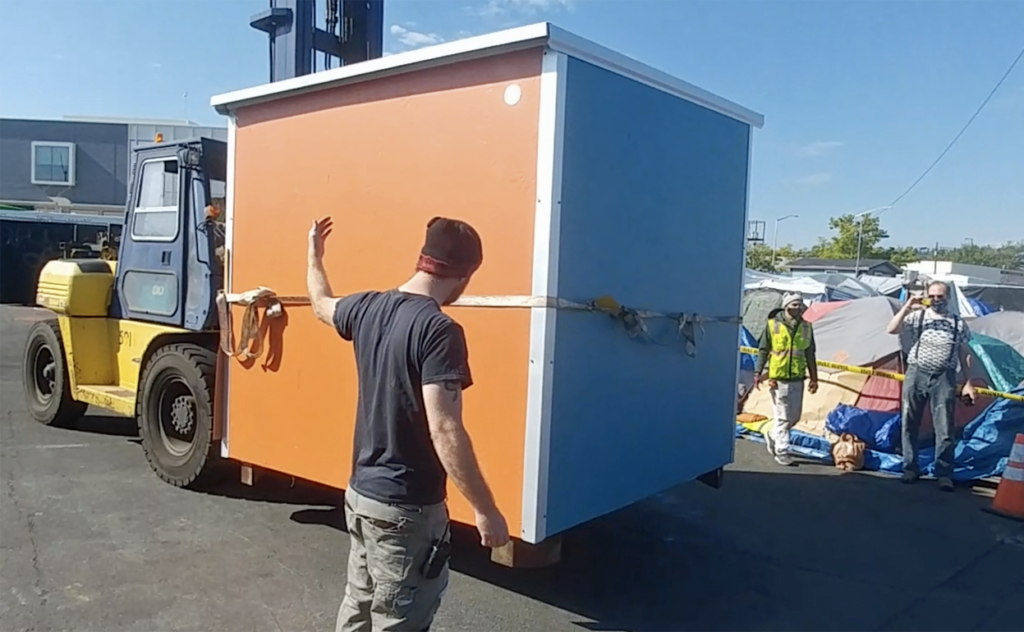 When the housing project is done, the site will have the same number of solid-structure homes as it did tents, with the added safety of a dry place to live and the security of a locking door. People stay at the mitigation site while looking for other more permanent housing, which is in very, very short supply for no- and low-income people living in and around Olympia.
Delivery of the last of the 60 homes is scheduled in May; the 8-by-8-foot structures weigh about 1,800 pounds and cost about $2,900 per unit. Much of the cost was driven by the huge escalation in the cost of construction materials in the past year.
"We're doing 10 today and we'll do 10 every week until we're done," said an exuberant Aaron Sauerhoff, owner of Earth Homes, whose vision of quality and durable homes and dignity for their residents has largely driven the project. Earth Homes is under contract with the city to build the homes.
"This is a small way we can improve health and safety for our homeless neighbors staying at Mitigation," Cary Retlin, the Home Fund manager for Olympia said in a recent news release from the city. The Home Fund uses tax dollars to assist in construction of affordable housing and shelter, and operation of homeless and housing programs. Catholic Community Service manages the mitigation site under contract with the city; the goal is that people stay there for a short time as they transition to other housing, the release said.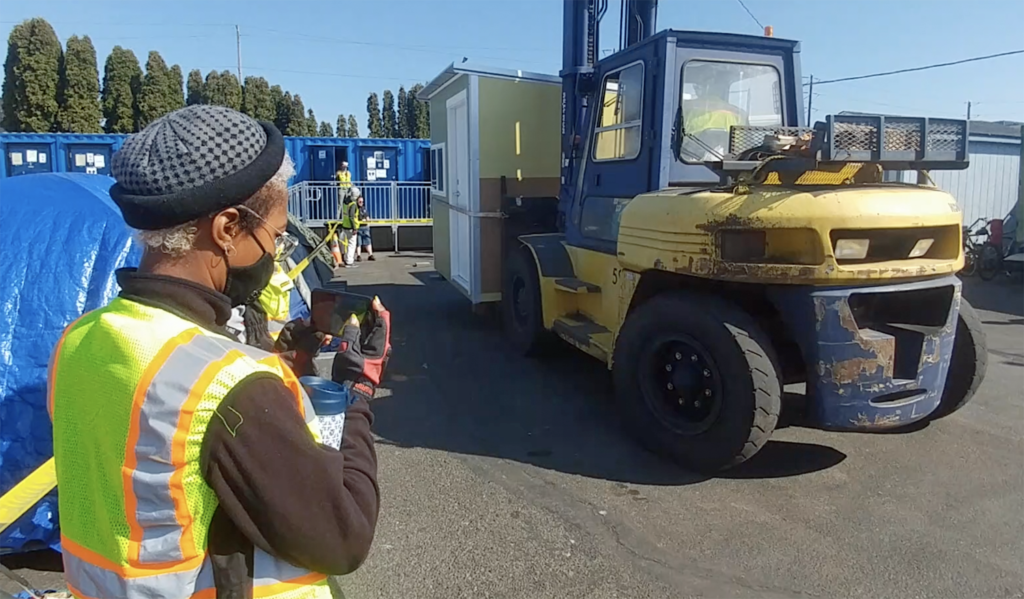 The homes are being built by Earth Homes (50) and Community Youth Service's YouthBuild program (10). The community, including the city of Olympia, Thurston County, local businesses and non-profits, has chimed in with donations; volunteers have put in hundreds of hours to help make the project a success.
And about those volunteers: More are needed. Rabi Verdante, Earth Homes Executive Officer and volunteer coordinator says "Phase 3 (easing of pandemic restrictions) and sunshine" have meant fewer people participating in construction when they are most urgently needed. "We need people of all skill levels and abilities," she said.
If you are interested in volunteering, contact the crew at volunteer@earthhomes.design.
You can track the project's progress here: https://www.facebook.com/earthhomes.llc.oly/ and/or email questions to hello@earthhomes.design.