"So I'm gonna make just phenomenal multidimensional truthful inclusive tolerant diverse eclectic spiritual meditative historical environmental black indigenous feminist neurodivergent queer disabled powerful meditative art anyway without punctuation but with percussion and vocals."
©Lene`e Reid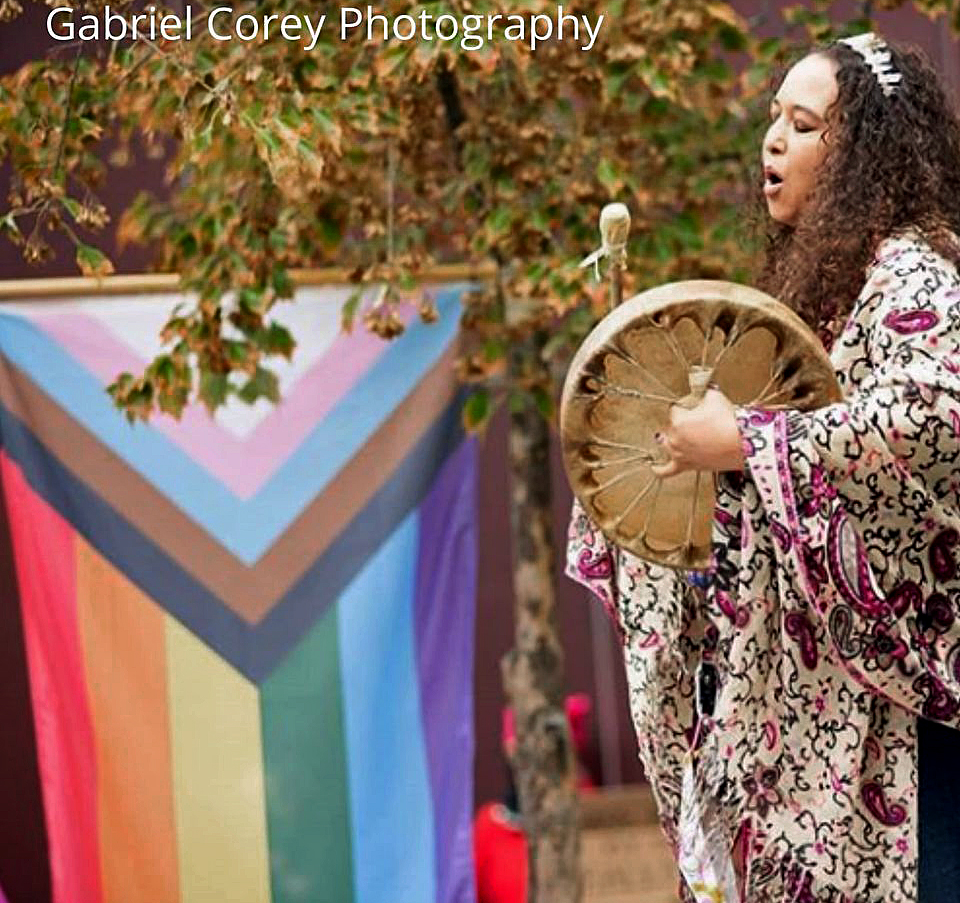 Recently, she applied to be the City of Olympia's poet laureate, but the city put the program on hold when hers was the only application received. 
"(I was) the only one in town who even cared to raise others' voices (but I) was not white and academic enough," said Reid, who also is known for her public meditations, performances, and community organizing.
She and others who support her application have taken issue with the city's decision in an online petition so far signed by 350 people.
Reid has represented Olympia at national competitions in New York and Chicago. She's also led workshops at local schools, for nonprofits, and at conferences.  "For the last eight years, Ms. Reid has served the residents of Olympia with her activism," the petition says. "She has been asked by dozens of community members to apply for the Poet Laureate position," the petition says, continuing: 
"Ms. Reid's role as Poetry Queen is already recognized de facto by the entire poetry community of Olympia. The City's refusal to even consider her application shows a blatant disregard for her status in our community as well as a grievous disrespect and maltreatment of Ms. Reid as a disabled neurodivergent Black professional woman of color. Such behavior has no place in our city."
"Ms. Reid is clearly a talented poet, and we were glad to get her application for the Poet Laureate position. But, getting only one application for a job where we normally get eight to ten applications is a red flag that either something might be flawed with our process, or that the pandemic may be impeding members the poetry community from participating in the process," said Kellie Braseth, strategic communications director for the city of Olympia. She said the city is committed to continuing the program and wants to "make sure the process is working for everyone who is interested in the position."
"We are hanging on to Ms. Reid's application for when we restart the program. We hope she will want to continue to be considered," Braseth said.
The call for applications published on the city's website says nothing about requiring a pool of poets from which to make a selection.
"There's a lotta reasons not to pick me that's fine but they're all discriminatory. I'm used to and tired of it. I'm glad people said something for me (in the petition). That's more justice than I have ever gotten for anything," said Reid.
Reid wants to be sure people know her as so much more than a "slam" poet and describes herself as a "Creole a military brat who grew up in Lacey and has raised my kid in Olympia. I have volunteered here at various places for over a decade. Have survived many life-threatening situations I wrote poems on … poetry and music are just a few of my geeks. "Slam" poetry is a small number of the performances I've done… I do public guided meditations. I've been in internationally curated projects and books … I'm a performance poet, artist, vocalist, producer."
Said one comment on the petition: "Even with 100 applicants there is no doubt that Lennee Reid should be poet laureate. She is not only an excellent poet but an active member of the community, using her words to have real impact for change."
You can see more on her youtube channel: https://www.youtube.com/c/LenneeReid/featured
We will be featuring Ms. Reid's writing at The Tribune for the year to come.