City Council Member Clark Gilman wants a change in state laws regarding militias, and he's tired of waiting around.
"We need to pivot to stop thinking about what the state can do to think about what we can do. We have the authority to create our own ordinance to prohibit unauthorized militias in our city … we can draw from existing state laws and … define unauthorized militia and define unauthorized conduct," Council Member Clark Gilman said at Tuesday night's council meeting.
He also asked for council members to support:
Automatically increasing the time a person can be sentenced if convicted of acting as a member of an unauthorized militia.
Municipal Court confiscation of a firearm used by an individual convicted of acting as a member of an unarmed militia.
His request is just the first step in creating such an ordinance.
"It's time to move ahead," he said, expressing council members' shared frustration that the Governor's Office and the state Attorney General's Office have not responded to a letter the city sent to them on October 8. That letter foreshadowed events in Olympia over the past two weekends in which two people were shot and others assaulted and injured.
It asks for support to change state law to provide "a severe penalty for persons who organize and form private armed militias. In addition, Olympia and other cities who have encountered armed private militia groups, need your support to prosecute or enjoin this activity before a tragedy occurs and innocent persons are seriously injured or killed," the letter said.
Council members and others have said state law regarding militias is unclear and the penalties for violating it – up to 90 days in jail and/or a fine up to $1,000 – are not stringent enough, "since the conduct has the potential for violent and tragic harm to peaceful demonstrators exercising their rights under the United States and Washington constitutions," said the letter, written before an outbreak of violence in Olympia left two people shot by supporters of President Donald Trump.
The city also has asked the Department of Enterprise Services (DES) to open up the state Capitol Campus to parking.
DES manages the state Capitol Campus. In pre-pandemic times required permits for groups and individuals to have rallies and protests. The Washington State Patrol (WSP) provides law enforcement services for the campus.
A DES spokeswoman said Wednesday that the department director and deputy director and the city had a meeting on December 10 to discuss security issues. "Staff at DES, the city and other organizations continue to coordinate and have ongoing discussions," she said.
"It's maddening, it's just maddening," Gov. Jay Inslee said Sunday when asked about violent clashes at protests. "Here we are in the middle of a pandemic, we now have a vaccine, we ha; we new president. We ought to be pulling on the rope together rather than having unnecessary fights that don't help anybody," Inslee said.
"What we're doing is trying to defuse tensions as much as possible," Inslee added. "Law-enforcement officers are trying to keep people apart so that their instincts don't lead to violence… I just hope people will try to show a commitment to people's health right now rather than anger."
The Governor's Office did not respond to a request for comment regarding the city's letter.
South Capital Neighborhood residents report harassment, noise, from right-wing protestors parking in front of their homes
Also frustrating to the city and residents of the South Capitol neighborhood is the parking situation on the Capitol Campus.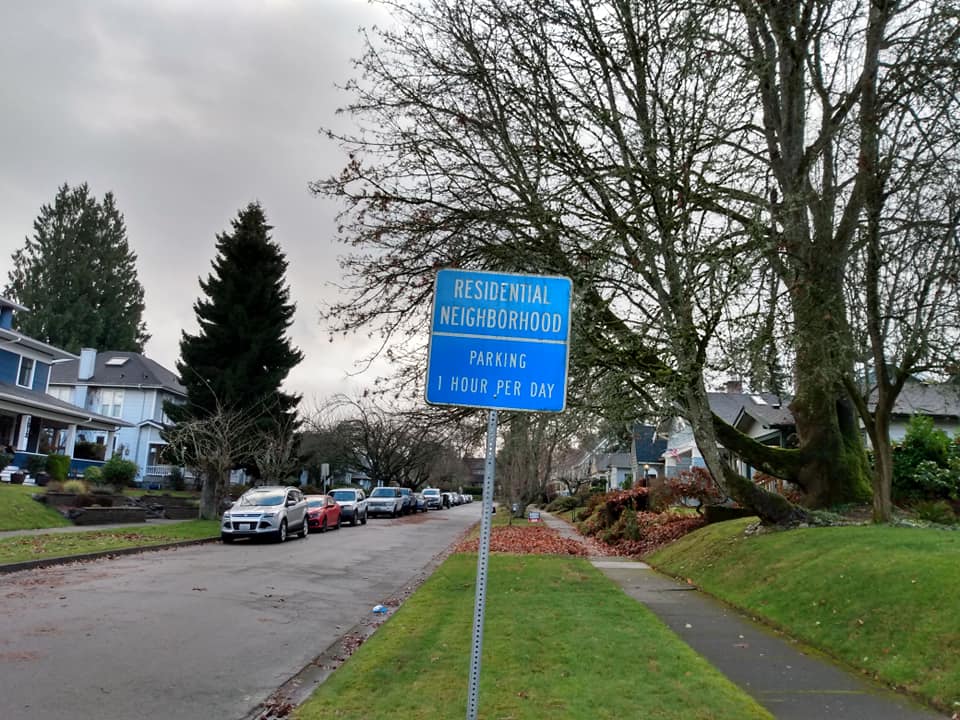 Residents are weary of rally-goers coming to the Capitol racing through their neighborhood, blaring their horns, shouting obscenities and wedging their over-sized vehicles into small spaces on crowded, narrow streets.
For months, barricades have prevented parking on the Capitol Campus because state buildings are closed due to the pandemic, and as a crowd-control measure for rallies that have drawn several hundred protestors and counter-protestors. The campus itself is not closed – no one is prevented from entering the outdoor areas, just the buildings.
Neighbors have complained to the city about harassment of themselves and their children by visitors. They are frustrated that the city has declined their request to have streets barricaded during the rallies.
The neighborhood "has not been a safe place" since rallies escalated to one per week after the election, said one long-time resident, who said she recently had to leave her front yard because the commotion created by visiting parkers left her feeling uncomfortable.