A memorial to Timothy Green at the place where an Olympia Police Department officer shot and killed him on August 22, 2022. [Photo: Leslie Cushman]
"He will not be forgotten.

His family will be supported.

Police will be held accountable.

We can and must do better."
That's the vow of family and friends of Timothy Green, shot and killed by an Olympia Police Department officer just over three weeks ago.
"He will always be my son. They took something away from us, but they did not take Tim. I won't let them. If I did that, then they win," said Timothy's mother, Millie Green, at the Community Gathering with Love & Justice for Timothy Green, calling for police to be accountable for what happened to her beloved son.
Timothy Green, a Black man, was 37 when he was shot on an asphalt driveway near a coffee shop drive-through at Sleater Kinney Road and Martin Way during what's been described as a mental health crisis. A small memorial bearing his likeness now nestles in that space, freshly decorated with flowers by his grieving family.
Since the shooting, a portrait of Timothy Green has emerged: He was faithful, generous, gentle, and living with mental health issues.
In his social media posts, he speaks about his trust in God, and his love for Jesus: "But I've got a friend that will never leave me. His name is Jesus, so I'm blessed, happy, joyful, never in need, all ways have someone who's very important in this world, and universe, on my side, who you got?"
On Saturday, his family remembered him this way:
"He really was suffering, he really was," said his sister, Sarah Green. "Until you are living with these issues every day, you don't understand. It got to be too much that day for Tim, and then somebody made a decision to be judge, jury and executioner." 
His brother Terrell said this: "He was so much fun. He was a kind man, he was a jokester … Timothy had his moments, but he didn't deserve that … I am still waiting for him to come home, but my little brother's never coming back."
In an earlier statement, the family had said they "dreaded the possibility that Tim would meet this very outcome … We know that people who have mental health issues are at a higher risk of being killed by police, and this is even more so for Black men like Tim."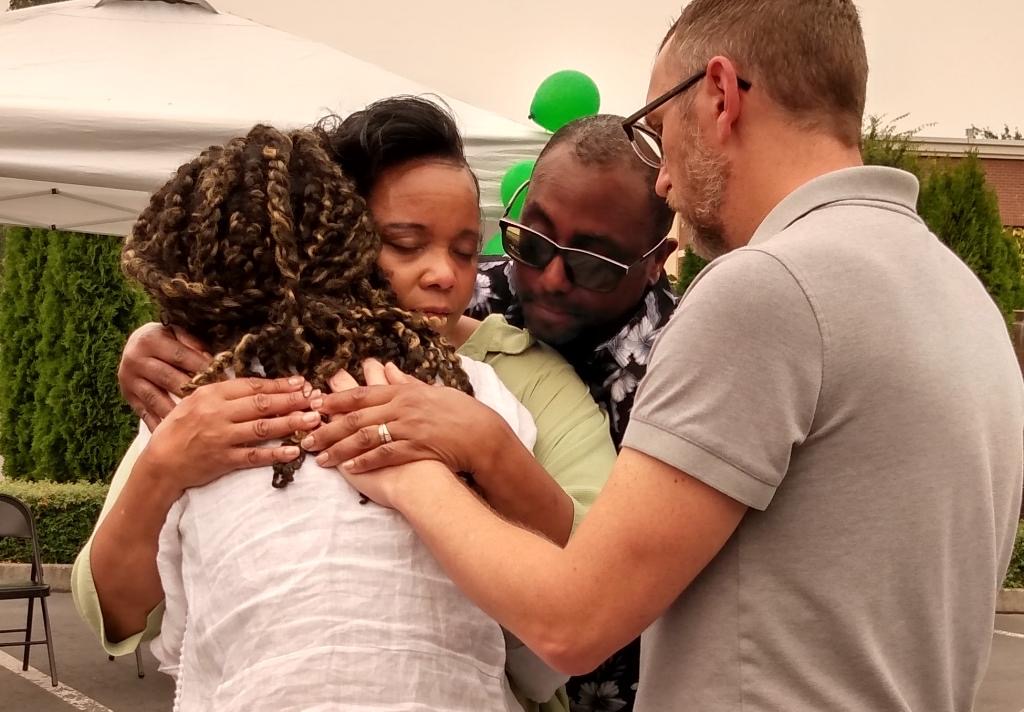 They now say the shooting has brought them closer together, united in their determination to ensure the truth of what happened is told. "Are we going to let injustice break us?" Millie asked.
"They owe us accountability," Sarah Green said. "This is an opportunity for us to get better and be better."
So far in 2022, on-duty police officers in Washington State have shot and killed 28 people, including Green, according to a database maintained by The Washington Post.
"Timothy should have been housed and receiving support for his mental health. Police knew that he was disabled and needed care and ended up killing him. This is a direct attack on Black people, disabled people, poor people, people with mental illnesses, and members of the unhoused community, says a statement from Showing Up for Racial Justice Olympia, the only community organization that has spoken up about the killing.
Members of the Olympia City Council were invited to the gathering, but did not attend.
"We shouldn't have to be here to do this. We need to support the family in everything they do to get justice," said Talauna Reed, an organizer of the gathering near the shooting site, which drew about 50 people on a blazing hot, smoky Saturday afternoon.
Four police officers, including the one who shot Green, are on leave while a team of law enforcement officers from Lacey, Tumwater, Yelm, and the Washington State Patrol investigates what happened on that hot August morning. The name of the person who fired the fatal shots has not been released. Police have said Timothy Green was shot when he walked toward officers with a knife.
The team, known as the Capital Metro Independent Investigations Team, is tight-lipped about what it is doing. It's weekly update, published September 8, said only this: "The August 22, 2022, Olympia Police Department officer involved shooting investigation is still on going by the Capital Metro IIT. Routine casework, report writing, and evidence examinations are still in process. No new information about the investigation is currently available.
SURJ questions how "cops investigating cops" can be independent and has asked the team to determine, among other things, whether the city of Olympia's Crisis Response Unit was called to the scene, and if not, why not, and what de-escalation techniques were employed before the firearm was used.
"What happened is the police officers forgot that Timothy Green was a sacred person," said Rev. Corey Passons at an Interfaith Works Moment of Blessing, a response to a homicide or violent death in Thurston County. These moments are intended to foster healing and reclaim a place of violence as a place of life and peace.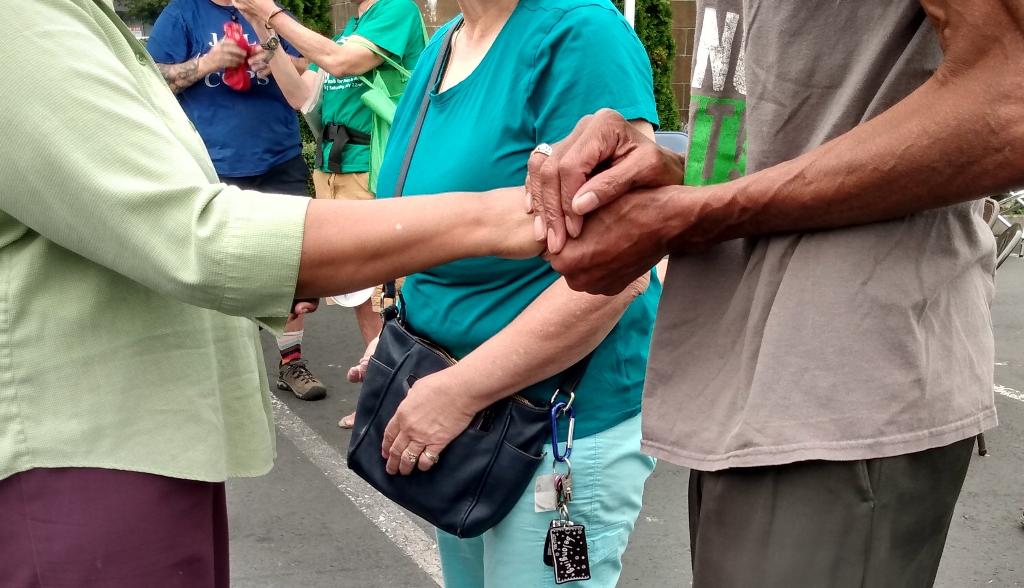 Here is the closing reading for the September 10, 2022, Moment of Blessing for Timothy Green:
As a community, we consecrate this space as a place of life.

That which was closed in death, we open to life.

As we remember the life of Timothy Green,

May we go forward honoring and supporting one another.

May we be reminded of oneness In which all people are bound together.

We are held by an invisible link.

We are citizens of one humanity;

our wounds are shared,

our healing is shared.

May we strive for the common good.

May we each be centers of peace.

Rev. Corey Passons