What began as a gathering of Trump supporters ended in chaos, one person shot, and a local church pastor assaulted.
United Churches Pastor Tammy Leiter Stampfli was shoved to the ground during the altercation, much of which took place on church property. As she began preparing for church services Sunday morning, she explained what happened in a Facebook post:
"Yesterday I was knocked down in the church parking lot by Trump supporter. This was after being screamed at for being a pastor of "such a Church." I had stopped with another member to use the bathroom. There had been a full on brawl between antifa and Trump supporters. People were beating each other, spraying chemicals in each others eyes, yelling, screaming obscenities. I am so disheartened that this continues in our nation. I think that every single one of us needs to do everything we can to bring peace. The way forward would involve careful and kind dialogue with people who see things differently," she wrote.
At 11th Avenue and Capitol Way, United Churches is kitty-corner from the state Capitol, where supporters of Trump, who lost the recent presidential election, and failed Republican gubernatorial candidate Loren Culp have rallied repeatedly since late summer. On Saturday, their event was among those being held nationwide by groups that believe rampant election fraud led to Trump's defeat. Democrat Joe Biden won that election, although no credible evidence of fraud has materialized.
2020 has been a year of protests and counter-protests in Olympia. At the center have been Black Lives Matter organizers and their supporters, countered by members of militia groups, many of whom proudly display their weaponry. Skirmishes between the two factions have occurred, but nothing on the scale of Saturday's violence.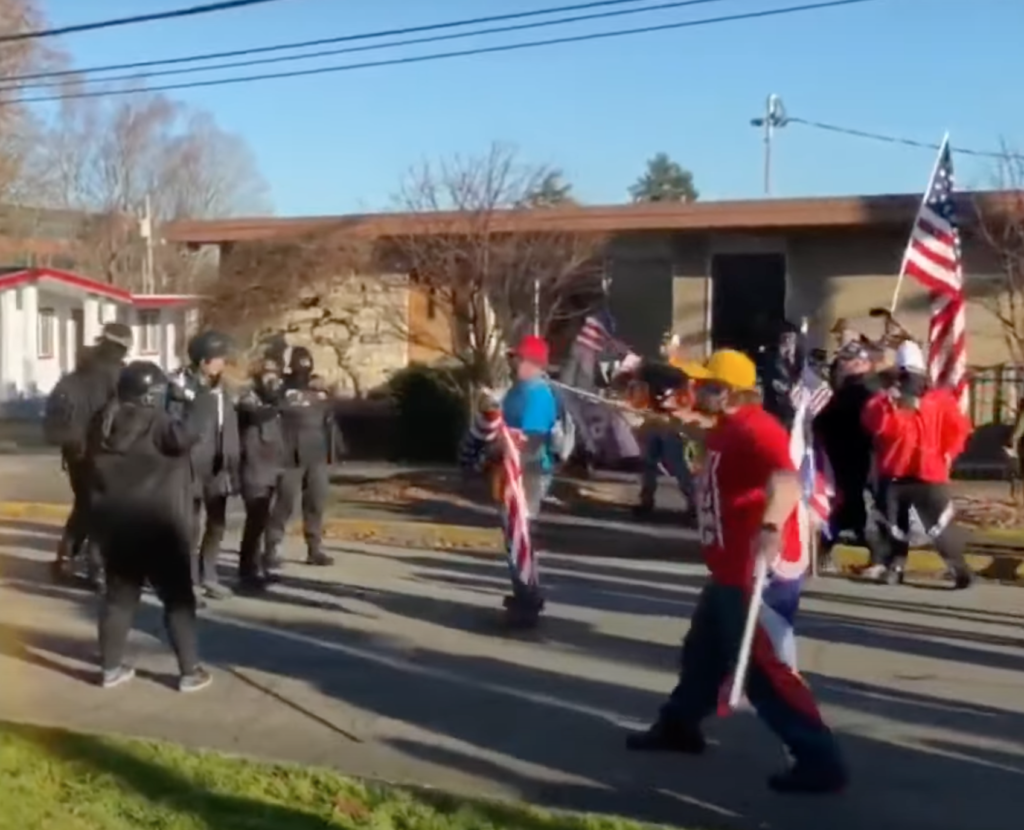 Law enforcement presence at BLM and Antifa demonstrations has been notable, at times involving the local SWAT team and the use of tear gas and flash bangs to disperse protestors. Members of the community have questioned why the militia members and Trump/Culp supporters have largely been left alone.
On Saturday, apparently, no law enforcement officers were on-site during the brawl, which, besides the shooting, involved Trump supporters spraying bear mace at their opponents, according to eyewitnesses and video taken at the scene. The video, now removed by YouTube, also shows an individual using an American flag on a pole to beat another individual.
The Tribune obtained a copy of a dispatch call at 2:34 p.m. as police followed the groups walking toward downtown after the assault on Pastor Stampfli. It refers to one group as a "patriot organization" and those in it as "patriots." It says, "if we get a physical fight, we are going to intervene this time." That was not necessary; no further violence occurred Saturday afternoon.
Olympia police arrested a 27-year-old on charges of first- and second-degree assault charges related to the shooting. A news release from the Department identified him as "part of a pro-Trump rally." He is being held without bail in the Thurston County Jail. No other arrests were made.
The release stated that the "melee" involved up to 200 people armed with bats, bottles, rocks, chemical sprays, and guns. "OPD called in extra staff and support from the Thurston County Sheriff's Office; however, much of the fight took place before they had the numbers to safely intervene."
It is unclear at press time how many officers responded. The news release said "no "chemical munitions were used to disperse the two groups."
OPD is continuing its investigation. They are asking the individual who may have been hit by the gunshot to come forward, "so appropriate charges can be made."
Anyone with information on the incident can contact the OPD at (360) 704-2740, or call (360) 753-8300 during regular business hours or email OPD at olympiapolice@ci.olympia.wa.us.
This is a developing story. Please watch for updates.