Demise of the Demoburger?
In a lengthy "discussion" on Facebook, now removed, debate raged among Thurston County Democrats earlier this month about the fate of the Demoburger Booth … you know, that purveyor of grease-laden, onion-covered gut bombs the Dems served at festivals and fairs … pre-pandemic.
Turns out the old chuckwagon needs a massive and expensive overhaul in order to meet state safety regulations, including a new range hood (who could have guessed that?). The fight centered on why the information was posted on Facebook, what the Dems had voted to do (pull the plug on the booth or find a way to fix it), and listed all sorts of burger booth vote-related indignities voiced during a recent meeting.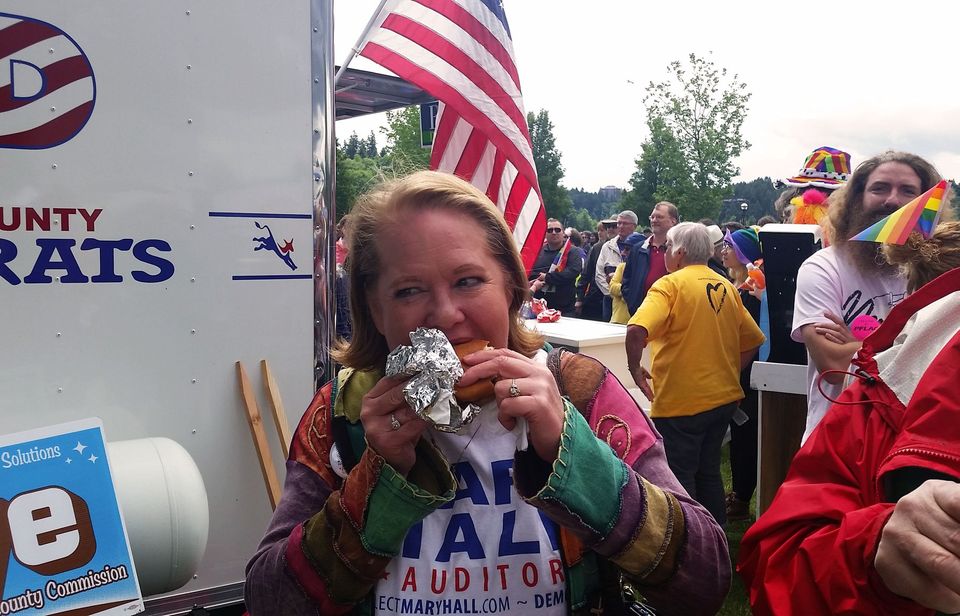 Compromise was reached, and money is being raised to repair the booth, which TC Dems say has been its "primary source of fundraising for many years. In 2019, (it) brought in approximately 70 percent of the TCD's revenue."
But Dems, listen up. There's no guarantee that any fairs or festivals will take place in 2021 and beyond. If you raise enough money to fix it, you'll need to find creative ways to use it. But now, there are close races all around the state and voters need to be encouraged to cast ballots. Focus, focus.
Troubles on the GOP side, too
Thurston County Republicans are enwrapped in their own angst, largely focused on the lack of participation and in-fighting. In a post-primary election entry on its website, a writer sounded this call to action (remember, this is the party that recently rescinded its endorsement of a Thurston County Commission candidate):
"The time for sitting on the sidelines has passed and we are really in jeopardy of losing it all to the communist forces growing in this state and country. This is no longer hype but reality … I can guarantee you, in the near future we, as Republicans, free-thinkers and conservatives will be persecuted and called names. It is only through our unity and cohesiveness we can weather the storm. There are no good alternatives to losing to the progressive/communist/antifa left. I do not want to belong to the generation that lost America."
The lengthy airing of grievances ends with this (caps theirs): "MOST IMPORTANTLY STOP, CEASE, FIGHTING AMONG YOURSELVES, THE TRUE ENEMY IS THE LEFT, THE DEMS, CRUSH THEM AT ALL COSTS, THE TIME FOR CIVILITY HAS LONG PAST. YOU LOOK LIKE FOOLS GOING AFTER EACH OTHER. HOLD YOUR TONGUE."
Maybe that would be easier if they were all wearing Loren Culp for Governor facemasks.