Note: This story is developing and will be updated as events warrant.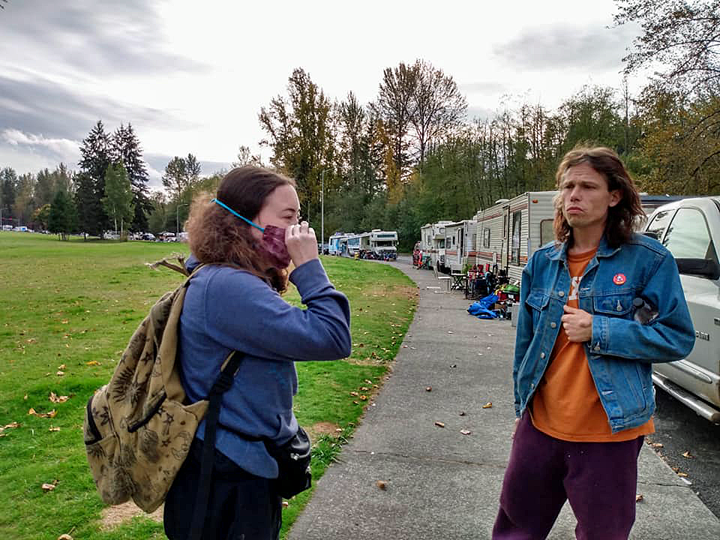 With less than a day to go before their city of Olympia-imposed deadline to move, residents of vehicles parked along Ensign Road and those who advocate with them still don't know where they will go.
"We are still in limbo," said Deborah, a resident of the area for the past few months. "It is so stressful," she said as she welled up in tears on Saturday.
Neither the residents nor those who advocate with them know what to expect on Tuesday. Tyler Gundel of the advocacy group Just Housing said even while work continues to find a site or sites for the vehicles, the city will not budge on the moving date.
"We don't know why," she said. "That's part of the frustration. They (the city) are keeping their cards close to their vest. They are not being transparent with anyone… either they have no plan, or they have a plan and are not telling anyone about it."
On Monday morning, The Tribune reached out to the city for details about the moving plan. As of noon, they had not responded. It has not been in further communication with the residents or advocates since last week. It previously has said that health and safety issues are driving the firm date.
The city has provided scant detail on what residents can expect, other than telling them it will provide gas cards and potentially other supplies if needed. They have said that they will tow vehicles if they are not moved from the site.
Just Housing is taking issue with the towing, which already has begun. On October 14, the city towed vehicles they deemed abandoned. They were not abandoned; however, Gundel said. One car's owner was at work; the other was owned by a disabled resident on the premises but could not reach it before it was towed, even though other residents tried to delay it, Gundel said.
Kellie Braseth, the city's strategic communications director, said those vehicles were moved after being tagged as abandoned. The city contracts with a local towing company for all of its tows, including RVs, which it tows for free. "They don't charge us for the service; they recoup from the owner for the tow/impound, or they sell at auction."
The auction part is troubling to Just Housing. The two vehicles "are currently being held under the threat of auction, despite these vehicles being used as homes by the people they were taken from."
They say a recent court decision – Seattle v. Long – prohibits the auction of vehicles if they are the owners' homes. It also prevents the collection of impound fees under the threat of auction.
They want the city to return the vehicles to their owners and to follow the law moving forward.
Sunday evening, Just Housing began a $3,000 fundraising campaign to pay for essential car parts, gas, and towing and impound fees.
It also presents an alternative. If Ensign Road residents are allowed to stay or move to a safe place, the money will be used to build six micro-houses for people experiencing homelessness. These are 8×8 structures that have a locking door, a window, and are built to keep out rain and wind. Micro-houses already are in place at one encampment in the city and have been mentioned as possible replacements for tents at the downtown Mitigation Site, which is home to dozens of people.
"We would much rather spend your money on productive solutions to our housing and homelessness crisis, solutions that advance people's quality of life and promote dignity. That is why we are also asking you to reach out to the City of Olympia and ask them to stay the sweep at Ensign," the fundraising pitch says.