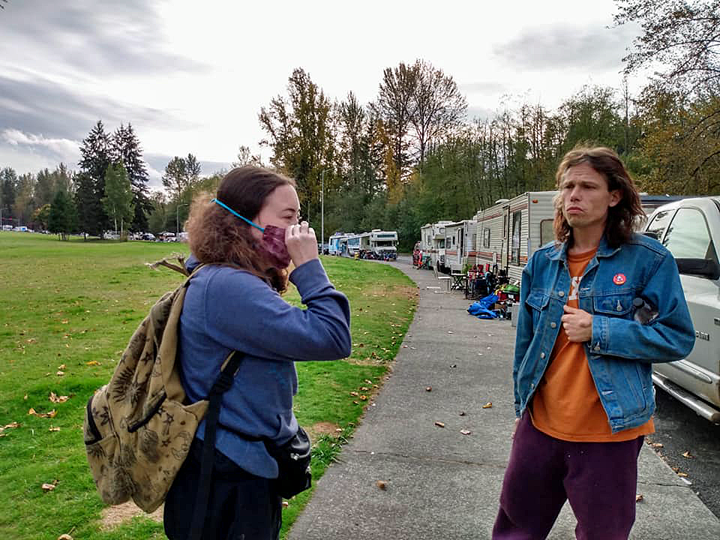 The city of Olympia is acknowledging missteps it made on Tuesday when it barricaded Ensign Road south of St. Peter Hospital to put up no-parking signs while it encouraged individuals living in vehicles along the roadway to pack up and move.
The morning was fraught with stress and confusion among residents and those who advocate alongside them. A letter from Just Housing sharply criticized the city's actions, including the lack of communication about what was to occur and the city's decision to temporarily bar access to the site.
In a letter sent to Just Housing early Thursday evening, Keith Stahley, Olympia Assistant City Manager, said this:
"Thank you for your letter. I've read it and thought about it and respect it. I'll admit that my first reaction when reading your letter was anger, but now I see where you are coming from. I can understand how our actions were a surprise and came across as heavy handed. I'm sorry for that. Whatever shortcomings there were with this process are on me. I approved it and take responsibility."
The letter he is referring to was sent by Just Housing in the aftermath of the city's barricade of Ensign Road south of St. Peter Hospital on Tuesday while the city put up no-parking signs and encouraged individuals living in vehicles along the roadway to pack up and move.
That letter said: Staff violated every best practice and common sense practice related to protecting vulnerable people, particularly during the era of COVID-19. Staff, knowing they were in a position of power over residents, and having a clearly demonstrated motive to remove them but no right to, decided that it was appropriate to isolate them from their advocates and legal observers so that they could "encourage" them to leave with no one else watching."
Continued Stahley: "City staff arrived at Ensign Road on Tuesday morning in the spirit of helping people move forward. I'm sorry that my intentions were not well communicated. Leaving you and other members of Just Housing out of that process wasn't intended to be hurtful or to prevent you from meeting with residents. I was legitimately concerned about public safety and allowing residents, advocates and others into the middle of what was an active work zone. After touring the work zone on Tuesday morning, I believe that was unnecessary. I should have let you enter at that time."
Also Friday, the city said vehicles that remain on Ensign will not be ticketed while it works on a long-term strategy to manage parking in that area.
That effort got a boost earlier this week when Thurston County agreed to spend $530,000 to assist the city in setting up a safe parking site. "We're deeply grateful to the County for the funding support and the regional partnership," said Kellie Braseth, the city's strategic communications manager. She said the next steps include developing a contract between the City and County that details the work to be done and a timeline. A meeting is planned for next week.
In his letter, Stahley said he is looking forward to working with Just Housing, other service providers, the County, and the other cities in the region "to craft a plan to move us forward. Let's develop a model system that works for campers, service providers, community-members and municipal/county operations alike."
"That will take flexibility, cooperation and most importantly open communication to make that happen … We are taking stock of lessons learned about reaching out to service partners in advance and improving communications with you and residents. I will do better and the City will do better in the future," Stahley said.
The Tribune has reached out to Just Housing for comment. More to come.