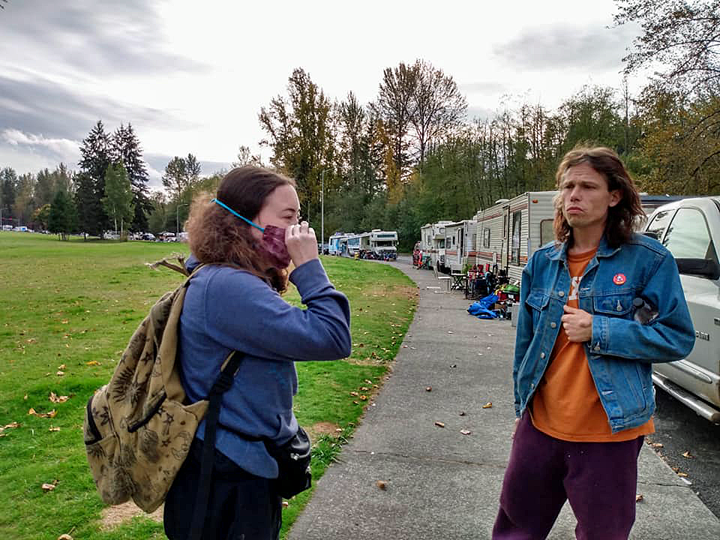 The move is off.

After receiving a letter from the state Attorney General's Office Monday saying the city's plan to evict residents living in vehicles along Ensign Road is a likely violation of the state's eviction moratorium, the city changed its mind.

Residents will not have to relocate or have their vehicles towed.

"We will continue to work towards a voluntary cleanup along Ensign, but will not be compelling any of the campers to move tomorrow," Assistant City Manager Keith Stahley said in an email to council members obtained by The Tribune Monday afternoon. He said the city will provide gas cards and limited vehicle repairs for those wishing to leave.
In another development, he said the city has reached out to the county for assistance on finding a safe alternative for the vehicle residents. "We are hopeful that they will partner with us on an appropriate response," he said.
The three-page letter from State Attorney General Bob Ferguson's Office is in response to complaints regarding the eviction notices served to residents on Oct. 27. It says in part: "Given that the Ensign Road residents have resided in that location for a period of months, these notices violate the Proclamation as to any resident not demonstrated by affidavit to be causing a significant and immediate risk to the health, safety, or property of others."
The proclamation referenced in the letter was issued by Gov. Jay Inslee in March and recently extended through the end of the year. The eviction moratorium was in response to the ongoing effects of the COVID-19 pandemic on individuals' ability to pay rent and was aimed in part at preventing a new wave of homelessness. It says: "It's critical to protect tenants and residents of traditional dwellings from homelessness, as well as those who have lawfully occupied or resided in less traditional dwelling situations for 14 days or more … including but not limited to … motor homes; RVs; and camping areas."
The letter from the Attorney General's Office said information in the eviction document "appears insufficient to justify the 'urgency' prerequisite to the sweep."

The Tribune has reached out to city officials and the advocacy group Just Housing for comment. More as this story develops.